More stories in English
Postgame thoughts: Canucks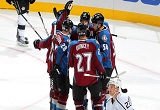 In or out?
After some 35 minutes of near perfect hockey, the Avs blew their 2 goals lead and eventually lost in OT. Again, that "60 minutes effort" thing. So now we realistically have to ask ourselves what chances do the Avs have of making the playoffs. After a nice winning streak, the coin flipped. Now they got 1 point in two games. They're still close to the rest of the pack near the bubble, but they have that nagging extra games already... It's gonna be tough to make it and - being the sunny optimistic personality that I am - I don't think they'll make it. Maybe they are a little bit too young and they don't know how to manage this kind of situations. And it's not like they have the coach of the year to help them out. To be honest, I still think this late season surge is due to the moves made by the management, not by Sacco's "tactics". The grit that Downie and McGinn brought it's obvious in the whole team. I remember against the Canucks when O'Byrne and Hunwick dropped the two Vancouver players standing in front of Varly. They wouldn't have done that a month ago. Not Hunwick, for sure. Now they have a mean streak which is great, but they should also keep their cool, mostly in situation like this, when leading 2-0 and playing great.
Five games left, two against close rivals, San Jose and Calgary, another one in Vancouver and the last two at home, against Blue Jackets and the Preds. It's not looking pretty, but the Avs proved they can beat everybody. The questions is do they have the mental toughness to take care of the business. That, my little ones, should be in Sacco's hands. But he's the guy that just benched Mueller to put Kobasew in so don't get your hopes up.
Robert Ciubotaru regularly writes his personal views and opinions on the latest Colorado Avalanche news exclusively for the Eurolanche fan club website.
Robert Ciubotaru
, Romania, eurolanche@eurolanche.com
26/03/2012 - 14:00
Discussion