More Fan Club news
Trip of US fan to Europe: The Flight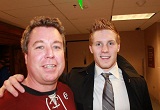 Eurolanche brings you the diary of the unique trip of the Colorado Avalanche fan from USA to Europe. Here is the first part of six.
Andy Kay, the adventure begins. I find myself on the way to Europe again after 17 years away. Once again, it will be all new places to visit. After dealing with a delay in getting to the airport due to a wreck on the highway bridge I arrive for the first step on the journey to Dulles, in Washington DC. A short flight with nothing to report, the first jump is done.
A delay departing from Dulles for unknown reasons, but I have plenty of entertainment for 9 hours, which includes sleeping, I believe this to be a first for me…actually getting to sleep on the plane. A good thing, since it will help with the time adjustment. Unfortunately, the delay in departure means I do not arrive in Munich in time to make the scheduled flight to Vienna.
Fortunately, due to the number of flights to Vienna it is no problem to be booked on the next flight with only a one hour or so delay. In this time I get to enjoy the free cappuccino and espresso which are available in the airport, great idea!
One bonus of the later flight is that my friend David Puchovsky will now be able to pick me up at the airport in Vienna for the travel to Bratislava.
After a short delay, in which David I guess decided he would like a small tour of the roads around Vienna airport, taking the wrong road the first time through, ha ha ha…we meet up and the true journey begins!
The drive from the airport is much shorter than I would have imagined, though the small towns of Hainburg and Wolfsthal, Austria along the way to Bratislava, Slovakia.
Andy is a huge Avalanche fan since their moving to Denver in 1995. He co-operates with the Eurolanche since the Eurolanche Invasion II in 2009. He lives in Denver, Colorado. You could see him on the picture above with Gabriel Landeskog. The photo was taken during the Eurolanche Invasion IV in December 2011.
David Puchovsky
, Slovakia, eurolanche@eurolanche.com
17/07/2012 - 22:00
Discussion