More stories in English
Top Avs games of the next season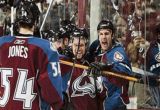 The season 2012/13 is closer and closer. The time goes very fast. Look at the list of the most attractive Avalanche games which are waiting on us.
Derby games with the teams of Northwest Division, new rivals, new players, all-star squads… Next NHL season will bring next great and unforgettable games. I have chosen five most attractive games of the Colorado Avalanche in the next season. Share your opinion with us under article in the discussion or at new forum!
11th October – St. Louis Blues
Very first game of our regular season and even at the home ice! All fans are looking forward on this day. Avalanche will welcome Blues. St. Louis almost has not signed any new player since the summer start. Only the comeback of Jeff Woywitka is a small exception. St. Louis will continue in rely on two hot goalies – Jaroslav Halak and Brian Elliott. They got the lowest number of goals last season together. This non-active activity on the market could have catastrophic consequences on this NHL team. I personally await big disappointment. Former Avs players Kevin Shattenkirk and Chris Stewart still play there.
13th October – Minnesota Wild
When you talk about Minnesota Wild at the present, you could not avoid to naming two players – Zach Parise and Ryan Sutter. Two star players have joined and came to one team. One team has got two biggest pieces. Some experts have immediately started to compose rhapsodies on this team. Even the owner of Wild wrote special message to all fans. It looked like they signed "99" and "68" in one moment. Fact is both contracts are extremely huge and overpaid. We do not wish anything good to this team, but also we could not wait to see it in the duel with our Avs. We will not give a chance to them! Minnesota will play its first game in Denver on the last November day.
17th/21st November – Montreal Canadiens/Toronto Maple Leafs
I have added this special "two-game" series on this list. Both games will be played in a row in the Pepsi Center. I really do not care about names of their players, but I have big respect of these two classic ice hockey teams. Very valuable games for me. We can still find John-Michael Liles in Toronto. Meanwhile Jay McClement has joined him.
2nd December – Los Angeles Kings
The premiere game with the last SC winner and even at the home ice. Kings are great example of the team success. They could win in spite of there have not been many big names which used to appear on the NHL.com everyday. Jonathan Quick has become great leader. Whole team could inspire Avs. We believe that Colorado will repeat King´s run for the Cup soon. Nothing is impossible.
13th April – Detroit Red Wings
The last game of the regular season. And it will with big rival from Detroit. I believe everything will be decided in that time – Avalanche will be preparing for upcoming playoffs and Detroit´s players will think about the vacation and golf courses. By the way, Red Wings also did not sign some big players in the last weeks. Problem is nobody wanted to go there. Maybe only Jordin Tootoo. You know that many NHL players absolutely hate him. But after signature of Todd Bertuzzi it was no surprise. Kyle Quincey will be new Nick Lidstrom? It looks like it when you check his new huge contract. Mikael Samuelsson came back to the town. It will be honor for the Avalanche to be "a dot" of Detroit´s unsuccessful season.
David Puchovsky
, Slovakia, eurolanche@eurolanche.com
31/07/2012 - 22:37
Discussion