Duchene didn´t play, O´Byrne won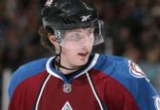 Matt Duchene did not play, Ryan O´Byrne played his 15th ECHL´s game on Saturday.
Matt Duchene
did not play on Saturday. There are two unconfirmed news, first, he has got a little hip injury and the second is he does not want to get injuries for a worthless match.
Ambri-Piotta
was losing 5:2 in
Fribourg
after second period
at the time of the deadline this story.

Matt Duchene gained five points in four games for two goals and three assists.

Ryan O´Byrne
was in the action on late Saturday´s night of European time. He played his 15th game for ECHL´s Florida Everblades and won 6:4 to Greenville Road Warriors. Florida was losing 1:4 but scored five third period goals. Ryan O´Byrne gained two assists.

O´Byrne in 15 games in ECHL gained eleven points for two goals and nine assists. He added plus five points and ten penalty minutes.

Rudolf Šerý
, Slovakia, rudolf@eurolanche.com
05/01/2013 - 21:00
Comments
There are currently no comments for this article.



6,75 je hodně, ale myslím si, že tuto částku zástupce RORa nahodil, aby tím zvýšil pomyslný střed mezi oběma n... More in:
Arbitráž rozhodne už dnes!
Uz ma normalne nebavi tento pripad. Tento hrac u mna klesol... ked nechce hrat za laviny tak nech odide.... a ... More in:
Arbitráž rozhodne už dnes!
Ryan je skvelym hokejistom, takych ako je on v NHL vela nie je. Avsak 6.75M je plat, ktory si mozu pytat jedin... More in:
Arbitráž rozhodne už dnes!
Velmi pekny clanok Rivalitu so St. Louis podporila aj odchod Stastneho...som zvedavy ako bude vyzerat p... More in:
Má Colorado v NHL rivala?