More stories in English
Varly: Avs have taken steps to solve it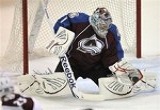 Goalie Semyon Varlamov talked about the bad season in the NHL.
It was very tough season for the entire team of Colorado Avalanche and also its goalie Semyon Varlamov. He played in 35 games, his save percentage was 90.3 and he allowed 3.02 goals per game in average. It was something absolutely different in the comparison with his performances in the KHL. He played for Lokomotiv Yaroslav during the lockout and became one of the best goalies in the whole league. "The start in the KHL was good. But then when I moved to the USA, it was different. It is a history. We have to forget on that and move on," said Varlamov in the interview for Sovsport.ru.
Varlamov is now with the national team of Russia in Sweden where he practices for the upcoming World Championship tournament. It starts on Friday. Varly´s team will be in the action on the next day. "I cannot express my feelings after the win against Slovakia last year," said Varlamov about the successful Russian road for the gold medal last year. "I would like do it again, but it is going to be harder."
Firstly, everything indicated that Varlamov would not travel to Europe for the tournament. The coaches of Team Russia invited goalies Ilya Bryzgalov and Sergei Boborovsky. While the first one agreed and came, Boborovsky refused go due the big tiredness after the end of the NHL regular season. "I absolutely do not care," Varlamov answered on the question if he has not fear for Bryzgalov naming goalie number one. "Every goalie on the team is ready. It depends on the coaches."
Finally, Varlamov concluded his season in the Colorado Avalanche. "If we were known the answer, we would repair everything. Unfortunately, it was not good season for the team. We have to work on our mistakes and move on. The management has taken steps to solve the problem yet."
The last sentence is very interesting. Does it mean that Varlamov considers the ex-coach Joe Sacco as one of the problems? Because the relieving Sacco off his duties is the alone step made by the management in the offseason so far…
Thanks to one of the biggest Varlamov´s fans in the world, vtcapsfan99, for the posting the link on this story. Follow her on Twitter.
David Puchovsky
, Slovakia, eurolanche@eurolanche.com
02/05/2013 - 17:00
Discussion