More stories in English
Nate Guenin Impresses Early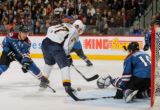 Roy likes what he sees and so do I
After two games into the season the Colorado Avalanche have a serious defensive problem. Luckily it is not the one everyone thought would happen.
Nate Guenin has played the first two games for the Avs. In his first game he played just over 18 minutes and finished plus 1. He was then supposed to take the next game off to give Nick Holdon his shot to shine. That did not happen. Coach Roy was impressed enough that he played game 2 of the season. In game 2 he played just over 15 minutes. Now while his ice time decreased he did manage an assist on the Patrick Bordeleau goal. It was his shot that Bordy tipped. He finished that game a plus one as well.
Guenin with also play in tonight's game against the Toronto Maple Leafs. With Ryan Wilson due to be back from injury in the next two games the Avs will have to make a decision. It seems like it is pretty safe to say at this point Guenin doesn't have to worry just yet.
If he keeps up his steady level of play right now I think he holds his spot. He may not be the number 1, 2, 3 or even 4 guy. But he is playing a steady solid game right now. You know how you can tell that think back to the first two games. I don't remember hearing his name at all besides the goal. When a defensive Dman is playing his game you just don't notice. Plus Coach Roy obviously likes what he sees if he was willing to change his plan about giving both Guenin and Holdon some shots.
Now one worrying point is yes Guenin is a career AHL guy at this point who wasn't expected to make the team. On some of his past NHL teams he made opening nights just to get cut later on as well. So this good start could be just a good start. I always keep in mind not all NHL players end up drafted and ready to go. You don't always make impacts in your early 20's or you're a bust. Look at Tim Thomas the man who never quits. Look at our own P.A. Parenteau who drafted in 2001 didn't find a permanent home in the NHL till 2011.
So I am not saying Guenin is going to be the next big deal on the Avs blue line. Just that sometimes I forget long years and hard work can be just as good as top 3 pick.
When Wilson returns who gets cut?
Guenin
Hunwick
or Hunwick trade
Holden
Barrie
25 votes total
Adam Stark
, Canada, eurolanche@eurolanche.com
08/10/2013 - 16:00
Discussion