More stories in English
The Game of the season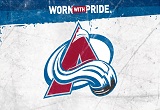 This is the brief column about the Colorado Avalanche season 2011/12.
Nobody knew what we should expect. What would be? Experts sent the Avs on the bottom of the standings. Again. But the team finished on the 11th place. Ups, did not they talk about this place? If there were not Varlamov or Giguere, it would be the same like in the last season. Maybe even worse. Colorado got 20 points more. Mainly because two hot goalies. Team is talented. Nobody is against that. But with Sacco, nothing will change. Duchene is the biggest negative point. He was injured. This is not everything. He suffered Sacco´s syndrome. He will play in the fourth line again in the next season. The Avalanche was missing sniper, pure goal scorer. He would lead young guns. Owner does not want to spend money. So do not expect somebody. It was average season thanks to Sacco and some players. He has to leave. It will not happen. This circus will be back in the next seasons. And then again. And again. Because somebody has stole honor of the Avs fans.
"The Game" articles express the views of the individual editor and not the views of the Eurolanche organization.
David Puchovsky
, Slovakia, eurolanche@eurolanche.com
09/04/2012 - 08:00
Discussion