More stories in English
The Game of the season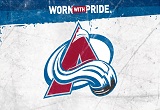 This is the brief column about the Colorado Avalanche season 2011/12.
Nobody knew what we should expect. What would be? Experts sent the Avs on the bottom of the standings. Again. But the team finished on the 11th place. Ups, did not they talk about this place? If there were not Varlamov or Giguere, it would be the same like in the last season. Maybe even worse. Colorado got 20 points more. Mainly because two hot goalies. Team is talented. Nobody is against that. But with Sacco, nothing will change. Duchene is the biggest negative point. He was injured. This is not everything. He suffered Sacco´s syndrome. He will play in the fourth line again in the next season. The Avalanche was missing sniper, pure goal scorer. He would lead young guns. Owner does not want to spend money. So do not expect somebody. It was average season thanks to Sacco and some players. He has to leave. It will not happen. This circus will be back in the next seasons. And then again. And again. Because somebody has stole honor of the Avs fans.
"The Game" articles express the views of the individual editor and not the views of the Eurolanche organization.
David Puchovsky
, Slovakia, eurolanche@eurolanche.com
09/04/2012 - 08:00
Comments
There are currently no comments for this article.

New comments
Minule som čítal, že Shipachyov ešte nepôjde tento rok do NHL, lebo musí dodržať zmluvu, ktorú má v KHL.... More in:
Nebol by lepší Šipačov?
Haha, mám naprosto stejný názor. Akorát že neironizuji slovo "rádi", ale doslova říkam, že Radulov je prase a ... More in:
Nebol by lepší Šipačov?
No když se tak dívám na výsledky ankety, jde vidět, že Radulova máme opravdu všichni velmi "rádi" Šipačov by... More in:
Nebol by lepší Šipačov?
pri MS jsem si rikal ze bych ho chtel do Avs, hral opravdu skvele..a podle me by se mohl prosadit stejne jak P... More in:
Nebol by lepší Šipačov?
New articles