More stories in English
Avalanche Signs O'Brien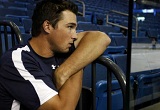 The Colorado Avalanche Hockey Club announced today that the team has signed defenseman Shane O'Brien to a three-year contract through the 2014-15 season.
O'Brien, 28, appeared in 76 games for the Avalanche this past season, totaling 20 points (3g/17a) and 105 penalty minutes. His 17 assists tied a career high set in 2007-08 with Tampa Bay, while his 20 points were just one short of equaling his personal best (21 in 2007-08). O'Brien finished second on the Avalanche in penalty minutes, his fourth career 100-PIM season.
"Having Shane under contract further solidifies our blueline," said Avalanche General Manager/ Executive Vice President Greg Sherman. "He brings energy to our lineup and we're pleased to have signed him to a multi-year deal."
Selected by Anaheim in the eighth round (250th overall) of the 2003 Entry Draft, O'Brien has appeared in 455 career NHL games with Anaheim, Tampa Bay, Vancouver, Nashville and Colorado. He has tallied 84 points (13g/71a) and 793 penalty minutes. The Port Hope, Ontario native has also skated in 40 career playoff games, recording two goals and three assists.
O´Brien´s contract is worth 6 mil USD.
-Avalanche Press Release-
Eurolanche.com
, Worldwide, eurolanche@eurolanche.com
26/06/2012 - 19:53
Comments
There are currently no comments for this article.

New comments
Minule som čítal, že Shipachyov ešte nepôjde tento rok do NHL, lebo musí dodržať zmluvu, ktorú má v KHL.... More in:
Nebol by lepší Šipačov?
Haha, mám naprosto stejný názor. Akorát že neironizuji slovo "rádi", ale doslova říkam, že Radulov je prase a ... More in:
Nebol by lepší Šipačov?
No když se tak dívám na výsledky ankety, jde vidět, že Radulova máme opravdu všichni velmi "rádi" Šipačov by... More in:
Nebol by lepší Šipačov?
pri MS jsem si rikal ze bych ho chtel do Avs, hral opravdu skvele..a podle me by se mohl prosadit stejne jak P... More in:
Nebol by lepší Šipačov?
New articles