More Fan Club news
Trip of US fan to Europe: Summary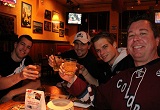 Eurolanche brings you the diary of the unique trip of the Colorado Avalanche fan from USA to Europe. Here is the sixth part of six.
Depart Vienna at 7:20 en route to Amsterdam, a short flight to a city I will not have time to spend in this time around. Some pizza. Through immigration I get asked tough questions, like, where have I visited?. Wow, tough test, who can remember this with so many places? After a few minutes I manage to appease their curiosity and load in. I watch three movies on the flight, nice to catch up on them, and then a landing in O'Hare in Chicago. Next stop Denver, where it is a nice 105 degrees and there are more fires, welcome home.
Wow, summary, so much to cover…will try to be brief.
My Eurolanche friends: guys, you are the best part of the trip. Seeing new places, of course, is exciting, but, it was you who made the trip what it was, fantastic! Thank you!
It was incredible to finally get to visit you at your homes after too many years delay. To experience what you see every day and don't give a second thought to, and taking the time to share it with me, appreciated. Thanks for being there where I arrived at every time, so that for my first visit I did not have to hitchhike.
So, in order of visit, my favorites of the place…
Slovakia – visit to the Driny Jaskyne, Eurolanche meeting, paintball, Dana's chicken meal, Slivovice
Romania – everything was far more familiar than I expected, Ostfest!, mititei, Horinca
Czech Rep. – Verča's chicken and dumpling lunch and bar-b-que, Krusovice, the girls
Hungary – Overview of the Danube and Pest from Buda castle
Austria – bacon wrapped frankfurter bar-b-que, Donauinselfest, Passage night, Stiegel, coffee!
Looking forward to seeing you all in Denver again before long, you are always welcome. Or hey, maybe we hit a Bruins home game next time instead? Ha ha ha.
On my side, I will visit you all again, so get ready, I know there are countless more things to do next time.
Andy is a huge Avalanche fan since their moving to Denver in 1995. He co-operates with the Eurolanche since the Eurolanche Invasion II in 2009. He lives in Denver, Colorado. You could see him on the picture above with the group of Eurolanche Invasion IV members in December 2011.
David Puchovsky
, Slovakia, eurolanche@eurolanche.com
27/07/2012 - 22:00
Discussion