More stories in English
Varly celebrated with Russian prisoners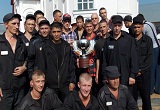 At least one Avalanche player could have a summer full of celebrations. Russian goalie took it seriously and did one extraordinary step.
Semyon Varlamov led Russian national team to the World Championship triumph this year. Russians beat Slovaks 6:2. Varly was one of the best goaltenders of the whole tournament. The success led to the special events and incidents.
Firstly, he gained media attention just seconds after the final whistle of the final game when he fell down on the ice with the trophy. Secondly, somebody from the team caused a little damage on the cup during post game never-ending celebrations. Thirdly, Varlamov spent one day with a trophy on the extraordinary place. In the prison.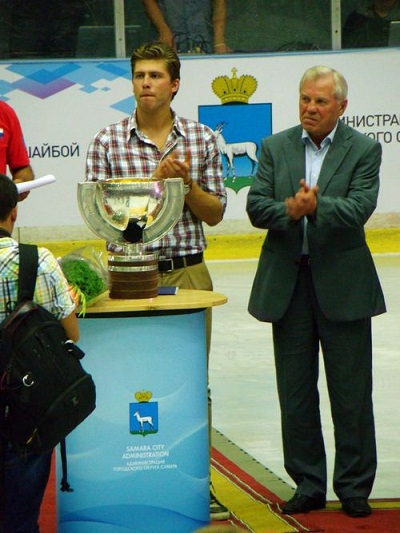 Varly also celebrated at the hockey stadium.
Varlamov visited the prison in his hometown called Samara. He met ice hockey team consists from imprisoned people. Men were happy, smiling all the time and also received autographs of their favorite player. They did not miss a game of Russians at the World Championship. This special event was approved by the national hockey federation earlier.
Varly played in the exhibition game.
"It is a great win. It takes back us to the old Red machine. Russia - unbeatable power state in the hockey. You know, many people did not believe that Varly would come. It is incredible. You can only dream about it," said Viktor Sambur, the captain of the "prison team".
Varlamov (in the hat) with prisoners.
Varlamov commented: "It is good for people who are here. They can see the cup in person and have a chance to take a photo. They can experience unforgettable emotions. Not everybody could take a picture with the Cup," said to local media and added: "I am happy I won it. It is my first big win in my hockey career. When I won I was happy like a kid. Thank you everybody!"
Fans love Varlamov.
Varlamov really enjoyed his day with the champions´ cup. He decided to give the autographed hockey stick to captain Sambur. Colorado Avalanche goalie experienced absolutely best of the best days in his life. He visited local stadium and team, met with veterans, famous Russians players and appeared many times on TVs. He has become the hero of the region. Fans were celebrating in the streets with flags, jerseys and colors on their faces. It was just unbelievable.
Celebration all the time.
The trophy will now stay in the office of the federation. Later it will continue its trip around Russia to the end of this year. Russian legendary player Viktor Tikhonov and other legend joined Varlamov in Samara.
Source of the photo: sovsport.ru, twitter
Translation: -eru-
David Puchovsky
, Slovakia, eurolanche@eurolanche.com
10/08/2012 - 01:09
Discussion