More stories in English
Hejduk for Eurolanche: Why I gave up?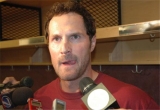 Fanclub Eurolanche did exclusive interview with the former captain of Colorado Avalanche.
"I decided to make this decision due a role which I had last year when I played in the third or fourth line. It was not right to be a captain anymore," said Milan Hejduk via phone exclusively for www.eurolanche.com. He openly talked about how it is not right to be captain who played in bottoms lines. It was not criticism of coaches. Hejduk is smart and intelligent player. He knows his role on the team. "It should be somebody else. Some younger player with bigger role on the team and with bigger future. It was not about I wanted to loss responsibility," said Hejduk.
Hejduk still did not know what would be next in the summer when he met with Eurolanche members. "I do not know, we will see," said Hejduk about the future of his captaincy in August. Jan Hejda thought Hejduk would continue in this position. Czech forward made final decision few days ago. "I was thinking about it in the summer. I told my decision to the coach and the general manager last week. It was not sudden decision," said for Eurolanche. Hejda has confirmed Hejduk´s words. "They did not take away captaincy of him. He did not feel good in the role of captain due an ice-time which he was getting," said.
Then the tittles of worldwide media were full of one name and one fact: Gabriel Landeskog is the youngest captain in the NHL history! The unexpected news was announced on the right time. Why? Landeskog is now 11 das younger then was Sidney Crosby in 2007 when he was named captain for Pittsburgh Penguins. Landeskog definitely deserved this honor. He was all time record player already in the juniors. Gabriel was the youngest captain in the history of his team and also the first European leader. "I little did not think on him when I was thinking who could it be. At the other hand, he is good choice. He has long career ahead," said Hejda.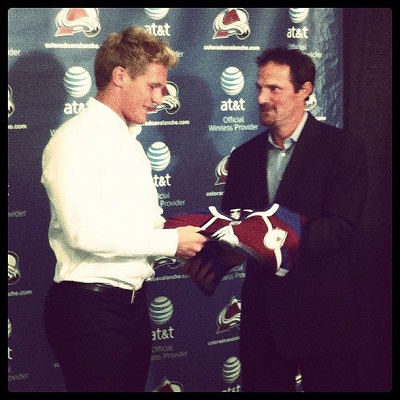 Landeskog is still young and works hard in games and at the practices too. He was not only one of the best NHL rookies in all major stats, but finally received Calder Tropy for the best rookie of the season. Will not be the biggest problem his inexperience with the NHL hockey just after his first season? "I think he could be an example captain in the way how he works hard. He has not many experiences and will not be captain who will stand up in the middle of locker room and shout on everybody, because he is still young. But it is good solution. I do not think there could be better," said Hejda.
What does Hejduk think about his successor? "He is great player, smart guy. I think he will handle it. He will be like me – he will be the example captain, he will not shout in the locker room. He will be captain for the long time, not for one-two years," said Hejduk and add his friendly advice: "Gabriel, stay the same person you were in the last season. Play your hockey. We will help you with everything what you will need."
David Puchovsky
, Slovakia, eurolanche@eurolanche.com
04/09/2012 - 22:26
Discussion