More stories in English
Paul Stastny could play in Germany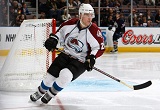 If there is a lockout, Avalanche center will play in Germany, Europe.
According to reports from German newspapers, Paul Stastny will join his brother Yan in the city of Nuremberg, Germany, if lockout hit the NHL. Paul would become the biggest all-star player in the German league then. He is the first Avalanche player whose name is connecting with some European team in a case of lockout.
His brother Yan played for Nuremberg ice hockey team from 2003 to 2005. He came back there after six years and earned 35 points in 40 games last season. Paul spends his whole career in the Colorado Avalanche organization. He played for University of Denver during the last lockout and his junior years. Previously he joined River City Lancers of USHL.
The current CBA will expire on 15th September, next Saturday. NHL said it will lock out players immediately. If the new deal between NHL and NHLPA would not be done following days, the NHL will cancel first weeks of the upcoming season. There is chance we will miss the entire season like in 2004.
David Puchovsky
, Slovakia, eurolanche@eurolanche.com
11/09/2012 - 20:24
Comments
There are currently no comments for this article.

New comments
Trener San Antonia vyzera byt ako horuci kandidat na miesto Roya pokial sa Avs odhodla k zmene kouca po sezone... More in:
Týždeň v San Antoniu (6.)
1. utok slape fakt skvele a je velka skoda , ze se Roy k tomuto slozeni neodhodlal driv. Bohuzel je to taky je... More in:
Najlepší útok celej NHL?
Ak tento utok vydrzi v nastolenom tempe a druha lajna zacne produkovat aspon 3/4 hry tej prvej tak to bude to... More in:
Najlepší útok celej NHL?
1. formace hraje vyborne, ale bohuzel zbyle utoky se moc do sanci nedostavaji a vetsinou jsou zavrene ve vlast... More in:
Rychlý komentář
New articles