More stories in English
Paul Stastny could play in Germany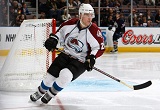 If there is a lockout, Avalanche center will play in Germany, Europe.
According to reports from German newspapers, Paul Stastny will join his brother Yan in the city of Nuremberg, Germany, if lockout hit the NHL. Paul would become the biggest all-star player in the German league then. He is the first Avalanche player whose name is connecting with some European team in a case of lockout.
His brother Yan played for Nuremberg ice hockey team from 2003 to 2005. He came back there after six years and earned 35 points in 40 games last season. Paul spends his whole career in the Colorado Avalanche organization. He played for University of Denver during the last lockout and his junior years. Previously he joined River City Lancers of USHL.
The current CBA will expire on 15th September, next Saturday. NHL said it will lock out players immediately. If the new deal between NHL and NHLPA would not be done following days, the NHL will cancel first weeks of the upcoming season. There is chance we will miss the entire season like in 2004.
David Puchovsky
, Slovakia, eurolanche@eurolanche.com
11/09/2012 - 20:24
Discussion