More stories in English
Norwegian team wants Landeskog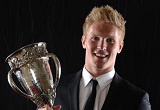 Colorado Avalanche captain will maybe come back to Europe due a lockout in the NHL.
Norwegian ice hockey team Rosenborg wants Gabriel Landeskog on its roster. The general manager of the organization has officially confirmed the interest in the Avs player. He also said he will contact him on this evening. Swedish player Jesper Eriksen plays for the team what could be help in the talks. He is a close friend of Landeskog once they spent early junior careers in Sweden together. They met last time only few weeks ago in August in Norway.
Landeskog cannot play back home in Sweden. The local league announced the strict rules for potential NHL players who would like to play there. Rules could be summarized in "Thank you, no". Swedish hockey league wants to avoid the mass departure of the NHL players in the middle of season when the new CBA would be done. Due this rule only NHL players who will stay there for the whole season can play there.
One of the options for Landeskog is the playing in the AHL for the Lake Erie Monsters. My personal opinion is he will not be there. European players do not like much AHL and prefer playing back at home or at least closer to their native countries. The latest rumor on Landeskog just confirms this theory.
Rosenborg Ishockeyklubb Elite is located in the north part of Norway in the city of Trondheim where almost 180 000 inhabitants live. The organization was founded in 1934 and has now an arena for 3 000 fans. Rosenborg was promoted to the Norwegian most elite league two years ago. Meanwhile, they finished on the 8th place in the both of the last two seasons. They could not win a game in the playoffs and were eliminated in the first round two years in a row. Two teams which finished below the Rosenborg at the end of regular season were relegated to the minor league. The team has two Canadian coaches and except Norwegians they are playing also two Canadians, one American and one Swedish player (Eriksen).
Eurolanche will try to contact management of the team. Stay tuned and follow us on Twitter or Facebook.

David Puchovsky
, Slovakia, eurolanche@eurolanche.com
17/09/2012 - 17:52
Comments
There are currently no comments for this article.

New comments
Minule som čítal, že Shipachyov ešte nepôjde tento rok do NHL, lebo musí dodržať zmluvu, ktorú má v KHL.... More in:
Nebol by lepší Šipačov?
Haha, mám naprosto stejný názor. Akorát že neironizuji slovo "rádi", ale doslova říkam, že Radulov je prase a ... More in:
Nebol by lepší Šipačov?
No když se tak dívám na výsledky ankety, jde vidět, že Radulova máme opravdu všichni velmi "rádi" Šipačov by... More in:
Nebol by lepší Šipačov?
pri MS jsem si rikal ze bych ho chtel do Avs, hral opravdu skvele..a podle me by se mohl prosadit stejne jak P... More in:
Nebol by lepší Šipačov?
New articles