Landeskog stays in Denver for now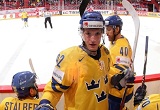 Captain of the Colorado Avalanche finally talked about the latest rumors on his career during the lockout.
The Fourth Period received first reactions from Gabriel Landeskog. "I've had no contact with any teams to this point and I'm not planning on going anywhere right now," said. Swedish left wing just confirmed what Eurolanche reported this week. He does not rush and waits how the lockout situation will continue. The biggest interest in Landeskog came from Norwegian team of Rosenborg, but Gabriel has been in the contact with his closer friend and local player Jesper Eriksen, not with the general manager on the official level.
In spite of his quotes yesterday, Swedish media published another rumors. According to them, Colorado captain wants to play at home and especially in the Djurgaden hockey club. The team is based in the 2tier league, so the strict rules for the NHL players are not valid there. If Gabriel wants to play in the highest Swedish league, he will have to stay there during the whole season, does not matter when lockout ends.
Djurgarden planned a board meeting today where they will talk about the possibility of adding NHL-players to the team. Defenseman such as Erik Karlsson (OTT) and Niklas Kronwall (DET) has been mentioned as possible signings. But Djurgarden fear that their insurances will cost too much. However, Douglas Murray (SJS) and Patric Hornqvist (NSH) is seen as more realistic targets. Another NHL-star that could join Djurgarden is freshly appointed Colorado-captain Landeskog. "I do not wish to comment on any players, but if "Gabe" wants to play with us we are of course glad to hear that", says the head coach and general manager of Djurgarden, Charles Berglund.
We can say we have quotes from Gabriel and not only rumors finally. It is nothing special if the rumors about playing in Sweden are true. If the lockout lasts long time Gabriel will probably play in Sweden. There is of course the option of the playing with his friend in Norway, but the financial issues could be the biggest barrier there. Meanwhile, Landeskog´s agent said that Gabriel will not play in the AHL. This has just confirmed Eurolanche´s speculations about the relationship of Europeans to the minors. They have always preferred playing back home when they could not play in the NHL.
Co-editor and Swedish translation: Robin Fredriksson
Where will play other Avalanche player during the lockout?

David Púchovský
, Slovakia, eurolanche@eurolanche.com, david.puchovsky@gmail.com
20/09/2012 - 14:00
Comments
There are currently no comments for this article.



"O Tomáše Vokouna údajně stojí Colorado, které by do týmu rádo přivedlo zkušeného brankáře, jelikož Jean-Sébas... More in:
Vokoun do Colorada?
Have you heard anything about Vincour? He limped off in the first period. I didn't look good....... More in:
Edged by Ducks
Souhlasím, a proto už víceméně nemám rád spekulace ... More in:
Vokoun do Colorada?
Mám rád špekulácie, ale toto je moc. Joe Sakic a Patrick Roy obetovali 2. kolo draftu na Berru, aby vzápätí an... More in:
Vokoun do Colorada?