More stories in English
Landy is injured, he talked to Eurolanche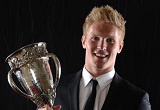 The Colorado Avalanche captain could not play in the international game against Czech Republic.
It was supposed to be a great day for the Eurolanche. We launched the Live Coverage feature and we would like to bring you minute by minute updated news about Landeskog and his presence in the game. Sweden faced the national team of Czech Republic.
Unfortunately, Landeskog was injured at the practice earlier in the morning. He was hit by the puck to his ear and needed five stitches. He had headache and did not even visit a game in the stands. According to the latest information, the injury is nothing serious and he should play in the rest of the games at the tournament.
Eurolanche contacted Gabriel. He told us he is sorry that we did not meet. Especially because we were travelling for 7 hours to Liberec. He had no idea that we were coming. Landeskog also described us his injury: "I was in front of the net and our defenseman took a snapshot that got deflected up and hit my ear. I should be fine and playing by Friday in Finland," said exclusively for www.eurolanche.com.
David Puchovsky
, Slovakia, eurolanche@eurolanche.com
07/11/2012 - 17:12
Discussion