More stories in English
Varlamov: NHL will start in December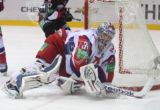 Eurolanche fan club talked again with the Colorado Avalanche goalie.
My opinion is that Semyon Varlamov is currently the best goaltender in the world. He plays in the KHL for the team of his childhood and junior years Lokomotiv Yaroslavl. Varlamov has appeared in 12 games and won 9 of them. He gains 3 shutouts; his save percentage is 95.1 % and GAA is 1.63. Thanks to Varlamov, Lokomotiv won 9 straight games.
Vitalij Kolesnik was in the net instead of Varlamov.
Semyon has not been on the roster for two straight games. Lokomotiv lost both of them. There was a speculation that Varlamov has injured his knee or head after the headshot earlier in the week, but he denies it. Eurolanche met with the Avalanche goalie after the game against HC Slovan; played in Bratislava, Slovakia. More photos of the game could be found in this public photo gallery. Scroll down for the game recap.
We asked Varlamov also questions, which we got from our members and fans on the web or Twitter. We will draw and the winning fan will get the official magazine of the game. Follow us at @Eurolanche or on Facebook.
Why you did not play last two games?
I cannot say.
Are you injured? You were hit by puck to your head in the game against CSKA Moscow.
It was nothing serious.
And your knee?
Everything is great.
Will you play in the next game?
Yeah, probably.
What do you think about comments of some NHL players, who said that NHLPA should step back and signed a new deal with the NHL?
I don´t care. They said, what they said. I read those news, but it is not my business.
What is your opinion: Should NHLPA agree with the NHL?
I don´t know, we will see.
What do you think about decertification of the NHLPA? (Varlamov did not read about that, I explained it to him)
I do not think it is going to happen. I do not know. Tough question.
What are your sources for the checking the news about lockout except the official newsletters?
I read Russians newspapers. That is how I know news from the NHL.
Do you think the new season will start on 15th December?
I think so. The NHL will start in December.
What was your best game as the Avalanche goalie?
I think against the New York Rangers, when I stopped 41 shots. I think one of the best as the Avalanche player.
And what about your best international game?
The final game against Slovakia this year. We won the championship.
What is the best current hockey player?
Probably Malkin. I like Crosby, he is my favorite player.
HC Slovan Bratislava – Lokomotiv Yaroslavl 3:2 (1:0, 1:2, 1:0)
Goals and assists: 11. Hudacek (Bartovic, Bliznak), 32. Visnovsky (Stajnoch), 41. Hudačck (Vondrka, Blizňnka - 21. Galimov (Anisimov, Kronwall), 37. Hagman (Kronwall, Kaluznyj)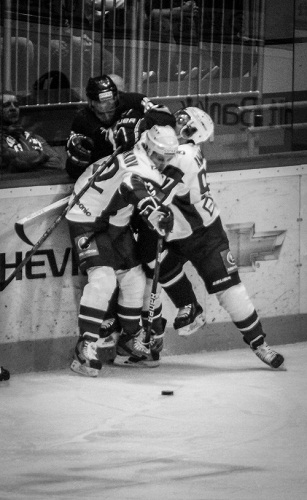 Slovan had weak start to the game and was regularly outshouted by Lokomotiv. Did not matter on the stats, Slovan took one-goal in the first period. We had seen many penalties on the both sides. Players were nervous and the weak officials did not help much the whole atmosphere. Lokomotiv tied a game later in the middle frame, but Slovan re-took a lead again thanks to NHL defenseman Visnovsky.
Lokomotiv´s players were frustrated more from minute to minute, because in spite of many powerplays and shots, they could not score second goal. Slovan goalie Janus was showing another fantastic performance. At the other side, former Avalanche goalie Vitalij Kolesnik, was not busy like his opponent, but also had very solid game with some tremendous saves. Lokomotiv finally found the receipt and tied a game for the second time.
Score 2:2 did not last long, because Slovan scored the third one at the start of the last period. Not much interesting third period has not brought more goals. One of Slovan´s player missed the entire empty net in the final minute, but home team of HC Slovan Bratislava won 3:2 in a big drama.
Spotlight on Varlamov
Varlamov has signed a lockout contract with the Lokomotiv almost two months ago. He spent majority part of his child and junior career there. He was thinking about the option to come back to Lokomotiv one year ago, but finally was traded to the Colorado Avalanche and signed new contract there. It has saved his life. The plane with the entire Lokomotiv team (players, staff, except the goalie coach) crashed during the take off. One hockey player and one crew member of the plane survived. That player died in the next week at the hospital. It was one of the saddest tragedies in the history of sport. Former Avalanche players Ruslan Salei and Karlis Skrastins were amongst the victims. Also, famous Slovak and NHL player, Pavol Demitra, died in the accident. The latest reports indicate that the inexperience of one of the pilots is the main case of the crash.
The list of Eurolanche´s exclusive interviews is

available here

. All interviews are in English language.

David Puchovsky
, Slovakia, eurolanche@eurolanche.com
26/11/2012 - 08:00
Comments
There are currently no comments for this article.

New comments
Landy... my favourite ... More in:
Denníky Duchenea a Landyho (1.)
ja osobne si myslim ze Columbus Blue Jackets niesu tym timom od ktoreho by sme sa mali inspirovat alebo vo vel... More in:
Čo nového u Avs? (4.)
no jo len mna zaujima nejaky zapas len ked tam mam nejaky oblubeny tim ako na ms slovensko a nhl colorado a na... More in:
Hokej je konečně zpět!
Já se na to teda těším, je to známka toho, že je hokej zpět a navíc o měsíc dříve než-li v jiných sezónách! a... More in:
Hokej je konečně zpět!
New articles