More stories in English
Sakic & Kroenke: Top quotes of conference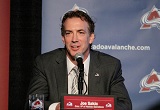 Look back at the Avalanche press conference thru famous and key quotes and best photo moments.
Josh Kroenke:
Sakic will be in charge of all hockey operations.
Greg Sherman will continue work with Joe in managing day-to-day operations.
We fully expect to be back up in the playoffs competing for the Stanley Cup in the coming years.
I was here in Pepsi Center for Game 7 of 2001 Stanley Cup finals. It was most memorable sports experience in my life and I want to experience it again and again. We will get back there and starts now!
We are committed to all of our teams equally. (referring to Nuggets and other sport´s teams)
I am really excited about the opportunity to move forward.
I am very good in managing people.
It starts now and I am really excited about the future and it is gonna be a lot of fun.
We built this team carefully, we drafted very well over the last years.
Whatever we like it not we finished near the bottom of the league this year.
I am very excited about the future of this team.
I do not sleep a lot. I am like my dad in that way.
I needed to learn. I am not afraid to say that I do not know when I do not know.
Joe Sakic:
Hopefully we would compete for the Stanley Cup really shortly.
We are looking to make these things possible.
Starts today I am looking for finding a new coach.
We wanna win, compete and have a chance. That is why I am here.
For me it was easy decision after talk with Josh last week. (why he accepted the promotion)
I will make final decisions.
Sooner or later, but we would like to have someone by draft. We are starting today. We will choose right guy for this team.
Obviously we wanna very passionate coach.
I am looking forward to help with the lead of this team to win championship one day.
I set more pressure on myself.
I like our players.
Photo moments:
Is Josh Kroenke the owner already?
"I believe in both these guys."
"Thank you for the trust."
"No problem."
Sherman was directly asked by a reporter only once.
Josh did not seem happy when he was hearing the question about the preferring the NBA.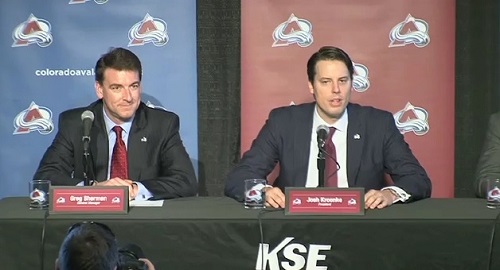 Josh had to answer why Sherman is still a manager. And Greg did not like it as well.
David Puchovsky
, Slovakia, eurolanche@eurolanche.com
11/05/2013 - 04:00
Discussion