More stories in English
Vrbata: Hejduk will maybe come to Phoenix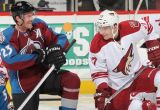 As the first website, we informed you recently that Hejduk´s career is done with the Avs. According to Vrbata, Phoenix Coyotes could be his next team.
Milan Hejduk said he will make a final decision about his career in the summer. He has decided. He wants to continue in his career. The offseason has brought many changes in the Colorado Avalanche organization. Joe Sacco was fired, Patrick Roy is a head coach and Joe Sakic has final word in everything as a vice president of hockey operations. They both want to win the Stanley Cup soon. Hejduk does not fit in their plans. A Czech winger said he wants to play again in the next season if he will get a fair deal – and he could play for less money. For now, it is clear his next team will not be based in Denver.
According to Czech forward, Radim Vrbata, who plays for Phoenix Coyotes and paradoxically played in Denver few seasons, Hejduk probably could join him in Arizona. "After the end of the season, the GM Don Maloney was talking to me about the players on his radar. We talked about Milan too. He maybe guessed Milan was going to end in Colorado. Milan is a great player. No problem with him in the locker room. Maloney called me again over the weekend and got know more information. I think he is searching for a wing forward to the line where I and Martin Hanzal play," said Vrbata for the Czech website Blesk.cz. Vrbata played with Hejduk between the years 2001 and 2003 in Denver. "When you say Hejduk, without thinking it does mean "Colorado". And that makes me sorry on this situation," Vrbata added.
Hejduk had not good year like almost every player under a coach Sacco. He played mainly in two bottom lines and his ice-time was low. "Hejduk told me he was not excited about the situation that was there. He struggled with Sacco. For me, this situation is a surprise, because Milan is very good player. He feels good because the knee´s pain has disappeared. He could play one-two years at the good level. In Phoenix or somewhere else," said Vrbata to the Czech website.
Hejduk played for Colorado from 1998 and spent 14 seasons there. He played in 1132 games, scored 409 goals and had 472 assists, all including the playoffs. He won the Stanley Cup in 2001 and received Maurice Richard Trophy in 2003. The Phoenix Coyotes would be a good choice for him – he would play with his countrymen in the same line and it could be very dangerous to their opponents.
David Puchovsky
, Slovakia, eurolanche@eurolanche.com
10/07/2013 - 21:00
Comments
| | | |
| --- | --- | --- |
| Subject: | Author: | Date: |
| | fuggthatt | 16. 07. 2013 12:35 |
New comments
Landy... my favourite ... More in:
Denníky Duchenea a Landyho (1.)
ja osobne si myslim ze Columbus Blue Jackets niesu tym timom od ktoreho by sme sa mali inspirovat alebo vo vel... More in:
Čo nového u Avs? (4.)
no jo len mna zaujima nejaky zapas len ked tam mam nejaky oblubeny tim ako na ms slovensko a nhl colorado a na... More in:
Hokej je konečně zpět!
Já se na to teda těším, je to známka toho, že je hokej zpět a navíc o měsíc dříve než-li v jiných sezónách! a... More in:
Hokej je konečně zpět!
New articles