More stories in English
David Koci becomes a coach in Prague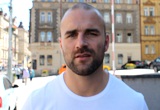 Former Colorado Avalanche player and fighter David Koci has semi-retired.
David Koci has semi-retired of a hockey. His contract in Czech Republic expired and he has decided to take a new role. He will be an assistant coach of U18 category for the same team that he had represented over the last two years. Also, he becomes a scout for all junior teams of the organization. Thirdly and finally, if the first senior team would need him in an action in the top league, he is ready to take his jersey again.
"There was a question for me what will be next with my career. I would like to do coaching in the future, but the playing on the ice still attracts me. When we have reached some scenarios with the team, I took a time for thinking and decided to accept this offer. I am very happy for staying in Sparta. I wished that," said Koci in the press release.
Head coach of Sparta Praha said David will be practicing and ready to represent the top team if they need him. Coach pointed on Koci´s main attributes: he can raise the aggressiveness on the ice and gain the respect from the opponents.
David Koci played in 142 NHL games collecting 4 points for three goals and one assist. He spent 78 of those games in the Colorado Avalanche. In Burgundy jersey he scored two thirds of his all goals in a career. After the season 2010/11 he did not get any one-way offer in the NHL and decided to leave for Europe. He has come back to home to Prague, Czech Republic where he represented the local team of Sparta Praha for two previous seasons. Totally, he appeared in 71 games and gained eight points, all for assists.
David Puchovsky
, Slovakia, eurolanche@eurolanche.com
25/08/2013 - 16:00
Discussion