More stories in English
Ville Nieminen retired from hockey
Former Avalanche forward and Stanley Cup champion has retired from hockey.
The 38-year-old's career is over. Finnish forward Ville Nieminen retired from the game after his season ended with his team Lukko losing in the highest-tier Finnish league's bronze medal game. "It has been a colorful journey. My pleasure, honor and privilege. Thank you, everyone," were the thoughts Nieminen shared on his official Twitter account, along with posting a cartoon. His next quotes were mainly about his disappointment after this year. He has always been a warrior, who wanted to win every single game.
Nieminen's pro-career started in the elite Finnish league when he was only 18 years old. Three years later, the Colorado Avalanche picked him 78th place overall at NHL Entry draft. He spent most of the following years in the AHL, but when he finally managed to stay with the first team, it couldn't be nicer. Nieminen appeared in dozens of games during two memorable seasons - 2000/01 and 2001/02. "The team and the organization were unreal. We had skilled players. 50 years from now, when I'll look back at that time, I will say that I played with five Hall Of Famers. They are headed to the HOF pretty soon. Three of them are already there and more will follow soon," said Nieminen in an interview for Eurolanche in 2012. "I played a lot with Chris Drury, we always talked. Dave Reid was driving me around when I didn't have a car. I think those guys I though of the most," continued Nieminen in the interview that you can find at this link.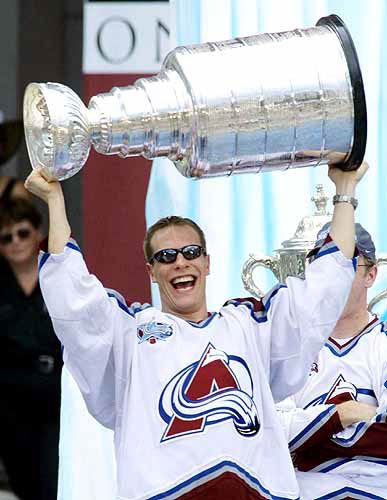 After being traded, Nieminen played for six different NHL teams and finally moved to Europe in 2007, where he suited up for seven different organizations in Russia and Latvia (KHL), Sweden and Finland. He was the captain for his hometown team of Tampere.
Nieminen contributed to the 2001 triumph with his character. He always finished a check and worked hard. Off the ice, he's always been friendly to all fans and they just loved him. He has already plans for the near future. "I will probably start with coaching and be a TV analyst for hockey games," said Nieminen, who is also an owner of a hockey bar.
Speaking about the 2001 roster, just three more players are still active in this great sport. Alex Tanguay plays for Colorado, Steve Reinprecht just renewed his contract in the highest German league for one more season and Martin Skoula finished his season in the Czech Republic.
David Puchovsky
, Slovakia, eurolanche@eurolanche.com
21/04/2015 - 18:30
Discussion