More Fan Club news
My Invasion 2022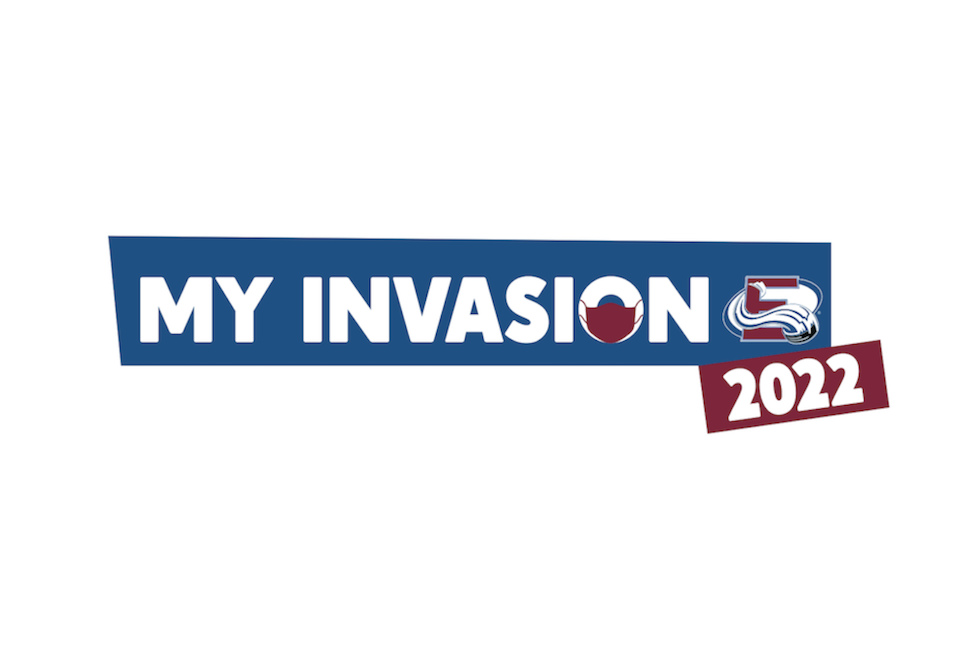 A report from David Puchovsky's trip to Colorado.
Note: The trip took place shortly before the outbreak of the war in Ukraine. In this context, Eurolanche decided to rename all upcoming trips to Eurolanche on Tour.
When it became clear that the then-ongoing pandemic measures had convinced Eurolanche members to stay home for the second year in a row, I decided to go to Colorado on my own for the very first time. Waiting another year, making it three years in total, was out of the question for me.
In January 2022, I planned an individual trip to six Colorado Avalanche games under the name "My Invasion 2022". Right away, I knew that it would be different than travelling across the ocean as a group. Different mainly in regard to the financial aspect of the trip, which my friends, whom I name at the end of this report, helped me to alleviate, and others in regard to the program, which couldn't be as varied.
During the 10 days I've spent on the road, I flew 10 times. Out of the six Avs games, I saw three home and three away games. I've visited a total of 4 US states. That's why I can't say that I was bored, the program was surprisingly packed, but that was simply due to the tight schedule of said games.



TRAVELLING TO THE US
I began my trip from Europe at the airport in Budapest. Although I've stayed the night before not too far away from the airport so I wouldn't have to wake up too early, the terrible quality of the bed meant that it didn't help me at all. The flight on the route Budapest – Munich – Denver went without any problems.
My biggest fears basically disappeared 24 hours prior to takeoff. Despite being vaccinated thrice, I needed to have a negative antigen test at that time. Of course, I didn't spend the days prior to my departure isolated nor did I avoid people. On the contrary, I attended several mass events. I think I don't have to tell you that the wait took a toll on my nerves… Fortunately, everything turned out well.
After touching down in Denver, I boarded the airport train that took me to downtown Denver. I had a smooth transfer, as I only travelled with a rucksack and hand luggage. Yes, those of you that know me probably won't believe me, since I've been returning from the US overweight and with lots of luggage for years… This time, I had to endure it not only because of the lower flight ticket price, but also due to bigger flexibility with so many transfers.
MINI TRIP TO PHOENIX
I arrived at the hotel near the arena on foot. Jim, a long-time Eurolanche friend, was waiting for me there. We both watched my first game, in which Colorado beat the Arizona Coyotes by a score of 4:3 in the shootouts. Basically, there was no time for anything else, as I was back at the airport near Denver very early in the morning. We flew to Phoenix, Arizona, but in order to complicate it just a little bit, with a transfer via Salt Lake City in Utah. Jim, who flies almost more often than he drives, not only arranged for first class tickets, but also for regular stops at airport lounges before every single flight of this mini trip of mine thanks to a loyalty program he's part of. Rest, peace, food and drinks in said lounges turned all the intense travel into something peaceful and something I will certainly look for on other trips as well.
The only problem of the entire trip occurred in Phoenix, where we spent an eternity waiting for a rental car. We subsequently made our way to the hotel right next to the arena, where we watched the Avs' win over the Arizona Coyotes by a score of 5:0. I'm glad that I made it into this arena, as the local team will no longer play there.
The next day, Jim, who used to work in Arizona, showed me around the capital. We enjoyed the local atmosphere, had a good meal, saw Shane Doan's training center and saw the unadulterated desert with giant cacti. The atmosphere of the entire city had a very pleasant effect on me and I would like to return there someday. Of course, as befits the desert, it was extremely hot. Thanks to Jim and his knowledge, I learned various interesting things, having such a companion on an individual trip from Europe was priceless.
A RIDE IN DENVER
We touched down in Denver late at night, we went there via Los Angeles (!!!). We checked into a hotel near the airport to get ready in time for my third game during the day. Colorado was victorious once again, defeating the Minnesota Wild by a score of 4:3 in the shootous. An interesting fact I'd like to mention is that I wore a face mask at each game, even though many fans no longer followed this rule. I took vitamins, cleaned my hands, and for a fact, I didn't get Covid. It took a few months, when I gave up this regime as well, before the virus finally found me.
Following the third successful game in a row, I remained on my own, as Jim went home. I used it to rent a scooter, which I rode near downtown Denver (they were blocked right in the city center), walked around the landmarks, stopped at the Capitol building and continued away from the city center through smaller streets, which were oddly quiet. It was already dark by the time I had a fantastic burger and enjoyed a cigar at a local club. I returned to the hotel in the evening on my scooter, but I still managed to take advantage of its proximity to Ball Arena, which I rode around on the rented machine. It was a great feeling, as there wasn't a single soul despite it not being cold at all outside.
MINI TRIP TO CALIFORNIA
On my 5th day in the US, I returned to Denver airport yet again. This time, I was going back to Los Angeles, where I'd been about 24 hours earlier as part of my return trip to Denver. I'm not surprised if this makes your head spin.
LA is entirely different from Denver. From the airport, I went to see long-time Eurolanche friend Andy by public transport and I had an uneasy feeling at times. Strange people all around, a problem was hanging in the air… In the end, I arrived in one piece. After an obligatory fast food stop at overrated In-N-Out Burger (they have the best peppers though) we walked around Long Beach, took in the scenery of the ocean, the sunset, the seagulls… In the evening, we met Denver Post reporter Mike Chambers and drank to my trip to the US.
The next day, Andy's son Taylor showed me around Long Beach. Me on a scooter, him on a bicycle. We went back and forth along the coastline. I saw the docked Queen Mary and various other nooks and crannies. It's difficult to describe everything, the photos often speak for themselves. I really appreciated that someone gave me his time like that and that I had the opportunity to visit places I'd never seen before. In the evening, we watched my fourth win in a row, when the Avs beat the Anaheim Ducks at home 2:0.
Andy had the next day off, so we could drive around Los Angeles and other neighborhoods. We didn't skip Beverly Hills or Santa Monica, where I went to for the first time, and the famous Pier 39 there. We enjoyed beautiful views and warm weather. As you might've noticed, I alternated between the cooler Denver and hotter West Coast weather extremely quickly. During this day, we also managed to meet Pavel Francouz, who made time for us. The evening saw my fifth win in a row when the Avalanche beat the Los Angeles Kings 4:1. The overly muscular security guards prohibited me from entering the arena with my Eurolanche banner that I bring to every game, yet I still managed to snuck it inside and take a victory photo with it. I returned to Denver the next morning.
THE FINAL LEG IN DENVER
Back in Colorado, I had less than three days of my busy trip before me. I was invited to spend two nights at the home of Jake Schroeder, the singer of the anthem at Colorado Avalanche games. It was shortly after he sang at his 1,000th game, so I got to see the special jersey he received on this occasion. His house had lots of things connected to the Colorado Avalanche, it was literally a small museum. It shocked me even more when he suggested he'd give me one of his three carpets he's performed the anthem at the Avs' home arena on. The one he rolled and taped up for me was from the time the Avalanche won their second Stanley Cup. Yes, Jake gave me the carpet he stood on when he performed the anthem before Game 7 between the Avs and the New Jersey Devils. I accepted this gift without any debate and was ready to bring it home no matter the cost. Later at the airport, they wanted a few dollars for extra luggage at the airport, but since their terminal wasn't working, I ended up having it for free. Today, the carpet decorates my "Colorado Avalanche room".
But back to the program. Before arriving at Jake's, I manage to stop at the Czech hockey bar SoBo 151, where I greeted our friends. At Jake's place, I met a French couple arriving on the same day, who are helping Jake with his educational program in France, which Eurolanche experienced in person back in 2019. The next day, our newly-formed group visited the Red Rocks Amphitheater, as well as other sights around Denver, which I haven't seen before and which will be included in the program of future Eurolanche trips. Jake even showed us a pillar, which had been moved from the town of Sainte-Meré-Eglisé, where he goes mainly in the summer in regard to the aforementioned project. A great connection between Europe and Colorado.
My last, sixth game was waiting for me in the evening. Although Colorado was favored against the Montreal Canadiens, the game ended up being needlessly dramatic. In the end, after much drama, the Avs won 3:2 in overtime. It was a symbolic win for me. Not only was this the first time any trip I've been part of ended with a 100-percent success rate, but this was also the 82nd Colorado Avalanche game I've seen live, which equals an entire regular season. I've seen two of them in Europe. The overall record now stands at 49-25-8. To put icing on the cake, I've received two pucks that were used during my milestone game. Such pucks cannot be bought anywhere. It was a fantastic experience, drama until the very last moment, and thanks to Vince, the most famous collector of game-worn Colorado jerseys, I got to enjoy it from the second row. The game-winning goal in overtime was scored right in front of my eyes. Unbelievable.
We spent the post-game evening with Jake, our French friends, play-by-play commentator Marc Moser and his wife and other friends at a nearby bar. We played pool and drank beer. All of this to the tune of live music. It was an unforgettable evening for me. I felt honored that I could spend it with such people and that this was the way my first individual trip to Colorado ended.
On top of that, on the way to the airport the next day, Jake took us to a memorial his friend had built. It's a memorial to all soldiers from Colorado who died in various military conflicts. Kudos to his well-thought-out architecture and the work of volunteers. And then I made my return via Frankfurt to Budapest and back home.
Despite having some concerns about what it would be like to travel alone, they immediately subsided. Thanks to Eurolanche, I know many locals and I can rightfully consider several of them good friends. Thanks to their help this trip took place without any problems. I experienced lots of new things, saw previously unknown places, Colorado won all six games I've been to. After a stressful, almost two-year-long period full of Covid, it was a more than welcome bit of relaxation. Unfortunately, exactly one month after the day of my return, the world was hit by another huge catastrophe…
For the irreplaceable help during my trip in the US, I would like to thank: Jim Hanson, Stephen DeGraff, Vince Talavera, Andy Kay, Tyler Kay as well as Pavel Francouz for the personal meeting.
Finally yet importantly, thank you to my great friend Jake Schroeder for not just being a great host in Denver, but also being an important person in my life. Thank you Jake for everything, thank you for giving me the Colorado Avalanche carpet on which you sang the US national anthem ahead of Game 7 of the 2001 Stanley Cup playoffs.
Translation to English: Michal Hezely, Eurolanche Vice President
David Puchovsky
, Slovakia, eurolanche@eurolanche.com
11/09/2022 - 19:30
Discussion