More stories in English
Eurolanche interview with Ryan O'Byrne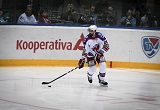 Eurolanche did an interview with former Avalanche defenseman Ryan O'Byrne, who currently plays for HC Lev Prague in the KHL.
Ryan O'Byrne was drafted 79th overall by Montreal Canadiens in the 2003 Entry Draft. Instead of continuing his career in the BCHL (British Columbia Hockey League), O'Byrne opted to pursue a career in the American NCAA where he became one of the better defensive defensemen in the league. Thanks to a great final season in the United States, O'Byrne was rewarded with an entry level contract and went back to Canada. His professional career began in the AHL during the 2006/07 season. He had his NHL debut during the following season, playing a total of 33 games and recording 7 points. He racked up 2 assists during his NHL debut against Boston Bruins.
After his entry level deal expired in 2008, O'Byrne signed a new 3-year deal with the Canadiens. The 2008/09 season was the last in which he played in the AHL. He was even a healthy scratch on the opening night roster. O'Byrne had an unlucky moment during this season, scoring an own goal and tying up a game that the Canadiens eventually lost.
He was traded to the Colorado Avalanche in 2010 in exchange for prospect Michael Bournival (who still plays for the Canadiens). In his first ever game in an Avs jersey, O'Byrne recorded the highest ice-time of his career. He played 74 games during the 2011/12 season, a personal best. During last year's lockout, O'Byrne coached a junior team before playing in the ECHL. He was traded to the Toronto Maple Leafs in April for a 4th round draft pick. The trade came after a string of bad performances. After his contract expired he didn't get any offers from a NHL team and went overseas to play for HC Lev Prague in the KHL, located in Prague, Czech Republic. O'Byrne played a total of 172 games for the Avalanche, scoring 4 goals and recording 28 assists.
Why do you feel you lost previous game in Bratislava against the local team (2:5)?
I think we lost the game in the first period. We played much better in the second and third period. We knew they we going to come out hard in the first with a sold out home crowd. Lots of energy in the building. They got two goals on some of our mistakes. Tough to play catch up hockey in this league against home teams.
What did you think of Slovakia and the spectators?
It was really great to play in front of them. Great crowd lots of energy.
What are some of the differences you find between NHL and KHL?
The big ice makes a difference. In the NHL I find it is more dump and chase. More focus on getting the puck in and really heavy on the fore-check. In the KHL more price is put on controlling the puck. If you don't have the puck out here you are chasing all night.
Have you adapted to bigger ice surface yet?
Yes it took a few games to get used to it. I have played 17 games now with lots of practices. I got used to it now. It requires more skating and more skill.
Did you travel to the game by plane of bus?
By Bus.
Did it remind you of your starting days?
Yes it reminded me of the one and half years playing for the Habs minor team. So riding the bus brings back some old memories.
How do you like the season so far?
It has been good really good hockey. It is pretty close to NHL skill wise and competition wise. A lot of good players over here. I have been really impressed.
What do you do in your free time in Prague?
Get out and see the city. See the different historical sites like castles and bridges. Truthfully it has been pretty busy since the season started a lot of games.
After last season did you have any NHL contract offers?
No I didn't and maybe if I had waited till training camps something would have come up. But I wasn't going to wait any longer. I am happy to come play in Prague.
Was it hard to leave North America and family and friends behind?
Ya obviously I was born and raised over there. I played my entire career over there. But the KHL is a really good league. Every year it gets better. Prague is a beautiful city. I really enjoy it and happy to have a chance to experience Europe.
What was your reaction when traded from the Avs to the Leafs?
I was surprised. You are always surprised when you are traded. It was my second trade in my career. It was the deadline and the Colorado was something like second last. So they traded me to get something back. It was cool to play in Toronto on a playoff team. We had a good series against Boston but didn't win. Toronto was a very fun place to play.
How will you remember your career with Colorado?
I have a lot of good things to say about Colorado. They gave me a chance to become a full time NHL player and I did. We had some tough years over there. I love the city of Denver and happy to see the Avs doing so well so far.
Do you check Avs game results?
All the time they are 9-1 it is pretty remarkable. I am happy for them.
Why do you think there is such a change?
I think it starts with Patrick Roy and Joe Sakic coming in. Those two are winner. They know how to win and have a lot of passion. They brought that to the team. Varly is playing outstanding right now something like just four goals in 5 games which are pretty remarkable. They have a lot of young fast forwards that are just deadly to play against.
Transcript: Adam Starks
Co-author: Michal Hezely
All Eurolanche´s exclusive intereviews are available here.
David Puchovsky
, Slovakia, eurolanche@eurolanche.com
27/10/2013 - 13:00
Discussion