More stories in English
Hejda: I´ll wait until November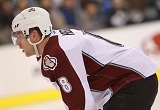 Avalanche defenseman has own plans in a case of lockout. Where he could play if the NHL season will not start?
Colorado Avalanche veteran defenseman Jan Hejda fully understands the possible threat of lockout. After the latest NHLPA´s press conference it looks like fans and players could lost not only a part of the upcoming season. The current CBA between NHL and NHLPA will expire this Saturday. Then the lockout start and the Avalanche players will have to find temporary employer. Some of them will take one year pause and will just practice. This is not a case of Hejda. "I wait until November and then I will see," said Hejda for www.eurolanche.com. "Maybe I will try to find something in Europe."
Hejda is one of the most experienced players on the Avalanche roster. He spent the major part of his career in Europe. There is no doubt he will come back there again, if the lockout hit the NHL. Hejda played his first six professional seasons in Prague, Czech Republic for the local team Slavia. If he will come back to his home country, there is only one option. "I cannot imagine I would play in the Czech hockey league somewhere else than in Slavia Prague. My heart belongs there," said Hejda for Eurolanche.
It would be huge come back for Hejda to Slavia after nine years. Meanwhile, Jan played for two Russians teams and made a debut in the NHL on the roster of Edmonton Oilers. His career had increased significantly in Columbus Blue Jackets where he had stayed for four seasons. Hejda signed 4-year contract with the Colorado Avalanche one year ago as a free agent. He gained 19 points in 81 games.
Where other Avalanche players will play, if there is a lockout?

David Puchovsky
, Slovakia, eurolanche@eurolanche.com
14/09/2012 - 18:00
Discussion