More stories in English
Francouz interview: My future in Colorado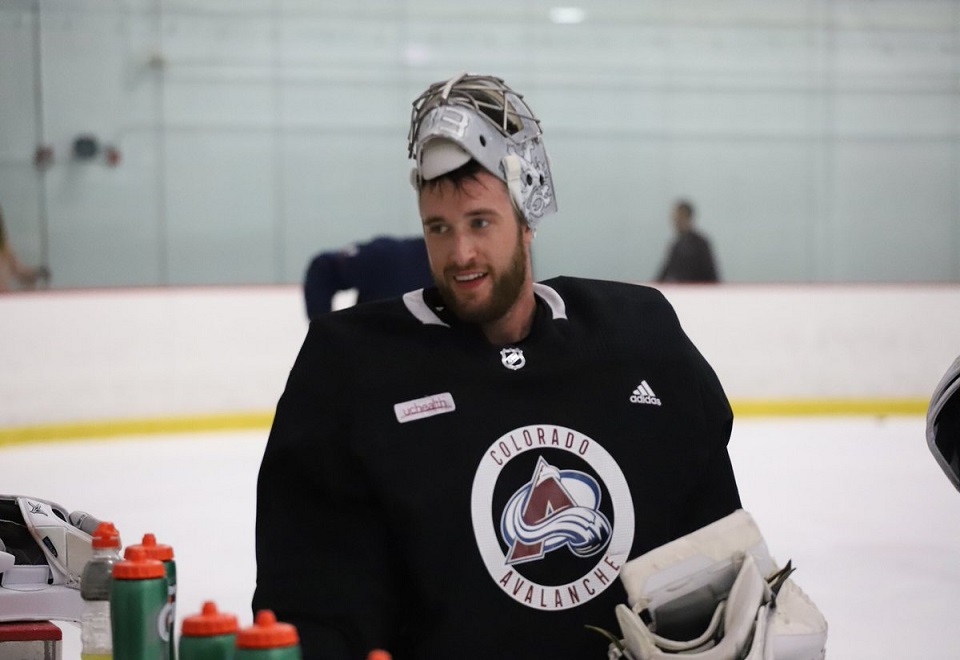 Eurolanche spoke with the Avalanche's Czech goalie.
Following numerous career accomplishments and accolades in the Czech Extraliga, on the international stage and, most of all, the KHL, Czech goalie Pavel Francouz finally got his first chance to showcase his talent in North America. A year ago, he signed a contract with the Colorado Avalanche. Its two-way nature and the subsequent signing of German goalie Philipp Grubauer meant that he'd have to start the season with the Colorado Eagles, the Avs' AHL affiliate.
For the Eagles, the 2018-19 season would be their first one in the second-tier North American professional hockey league after two championships in the ECHL. With a revamped roster and "Francík" between the pipes, the team played well in their AHL debut season. The Eagles even made the playoffs, but their Calder Cup hopes ended in the opening round.
Pavel played 49 games during the regular season with a GAA of 2.68 and a .918 save percentage. His stats looked a little worse after his three post-season appearances – a 3.31 GAA and .895 save percentage. Ultimately, Pavel certainly didn't disappoint and earned first star honors in several games, with his standout performances helping the Eagles snatch points on numerous occasions. Even during the team's biggest slump, he appeared in two games, recording a solid 1.97 GAA and .943 save percentage.
Pavel's long-term consistency in Europe, solid play in his rookie season overseas, age and manageable financial terms all look like good predispositions for him possibly staying in Denver. His return to the Mile High City remains open, as his one-year deal will officially expire in the offseason.
Eurolanche spoke with Francík in Bratislava during the ongoing 2019 IIHF World Championship, where he joined Team Czech Republic following the Eagles' first-round playoff exit. The interview was conducted prior to the Czechs' game against Latvia.
What did the past season in the AHL give you? Do you regret anything? How was it compared to the KHL?
First of all, I want to say that I certainly don't regret it. I always wanted to try my luck in North America, it's been a dream of mine and I finally managed to fulfill it, albeit partially (as of now). It was an awesome year. I really enjoyed playing there, which is the most important thing. All in all, hockey in North America is different. You play on a smaller rink. The players crash the net a lot more and are prone to screen you more often, which was and remains the biggest difference for me. You really need to fight to see each puck and to give yourself a chance to make a save. I had to adjust my style a bit because of all this. When I went overseas, I told myself that even if I'd return after the season (back to Europe), the experience would still help me improve as a goalie. My mindset was that I'd try something new, which would give me a lot of invaluable experience.
Hockey aside, how was it from a personal standpoint?
It also gave me a lot. I got to know a different mentality, a different way of life and an entirely different world. Personally, I like to experience and get to know new cultures. Colorado's a beautiful place. There's wonderful, fresh air and lots of sunshine. Things like these do a lot for you mentally – when you wake up to a beautiful sunny morning, you're positive and in a good mood from the get-go.
How was it to be on the same team with another Czech player, which is quite uncommon in the AHL?
We were lucky to be there together. Martin's a young guy at the beginning of his career. He was a high draft pick, which provides a good platform for him. It's up to him to impress and improve the way the team's management and coaching staff want. He's got what it takes, he's both a great player and a great person. We really hit it off. I tried to help him as much as I could, because I know how hard it is to get to a foreign country and adapt. I was 25 when I went to Russia and it was still tough. I can't imagine how much of a change it must've been for him to come to North America at 18. I helped him to arrange a car, accommodation and stuff like that, which I already had experience with.
You've been in the stands for several NHL games. How was it to be there in person?
It was awesome. I've never been to an NHL game before, which is why I tried to go to as many games that I could manage. I think that the NHL is an enormous show first and foremost. It's what makes the people enjoy the game a lot more, even those who aren't fans of the sport or aren't as familiar with it as other fans. In the playoffs, it's hockey at the brink of what's humanly possible. When I saw that the guys played with the same intensity and on the same level despite having a single day between games and having to travel on top of that, I was really impressed.
What do you think about the offside call in Game 7? (Pavel was in the stands for that game)
I think the referees made the right call. It's tough to say, because we were at the wrong end of it. If it were different, people would probably back it up. The referees made a judgement call and there's nothing that can be done about it. It's tough, because it came at a crucial time in the game, where the Avs were looking to even things up.
How was the trip back to Colorado?
Obviously, the players were all disappointed. They gave so much effort, so much work into it and felt that it all came to nothing. They've showed what they're capable of. The guys got off to a great start, then got into a slump, which is understandable as they're still a young team. Despite this, they managed to overcome it and clinched the playoffs at the last second. Once there, they managed the unimaginable, defeating the first team in the West and being more than an equal match to the second-best team in the conference up until Game 7. The future is bright in Colorado.
Would you be willing to play another season in the AHL?
At the moment, I don't think it would give me all too much. I viewed it as a necessity in order to adapt to North American hockey. I didn't take it as something negative, or any sort of punishment to be in the AHL. I thought of it as another step I needed to take to get to the NHL.
Should you stay, would you at least want to be the team's backup?
I won't make any ultimatums, but I would like to move forward, to progress as a player.
Are contract negotiations already underway?
I think so. Now it's up to my agent and the team's management, I don't want to interfere.
What's your role at the ongoing World Championship?
I joined the team at the last second, which is always tough. I felt the effect of different time zones, but the team gave me time to rest. The team's rolling despite the loss against Russia our last time out. I came here to help the team, in whatever role I'll be given and capacity I'll be able to. I'd like for us to be as successful as possible, for the Czech Republic to get a medal. Were I to watch it from the bench, I'd be as happy as if I would be between the pipes.
Author's opinion: Semyon Varlamov had a lot of great seasons in Colorado and most of them were tough ones as well. Often, it was Varly, who kept the Avalanche going, standing on his head to give the Avs at least some points. The Russian goalie was the team's first superstar goalie since Patrick Roy. Sadly, a goalie playing out of his mind alone can't win you too many games. Most of the time, he lacked the support he needed, the roster underwent several significant overhauls and rebuilds… But Varly was still Varly and struggled only rarely. For all of his performances, he deserves a lot of praise and our gratitude. But the NHL is a rollercoaster, professional sports are a business first and foremost, which is why I think that his days in Colorado are numbered. Grubauer used one of Varlamov's rare slumps to permanently push the Russian out of the crease and onto the bench. Should Varly want to stay in Colorado, he'd have to accept the role of the team's backup, at least to start the upcoming season, and probably take a pay cut. Knowing his nature, determination and still solid skillset, I think this scenario's unlikely. Varlamov will be willing to go to a team, where he'll get the chance to become a starter. Grubauer will be the Avs' starter and based on the reasons I mentioned earlier, Francouz will be promoted to backup duties. The signing of Swedish youngster Adam Werner doesn't factor much into this decision, as he'll have to start in the AHL. And should anything go wrong in Denver, we'll know that Francík will be ready on the bench.
Translation by Michal Hezely.
David Puchovsky
, Slovakia, eurolanche@eurolanche.com
18/05/2019 - 20:00
Discussion