Language:
Slovak/Czech
Back to Stadium Series Web
Eurolanche's social networks nearly exploded during the recent outdoor game between the Colorado Avalanche and the Detroit Red Wings. The reason? The group of the most dedicated European Avalanche fans made a live appearance on NBC Sports - one of the most famous North American sports channels. Jeremy Roenick, former NHL player and member of the Hockey Hall of Fame, who currently works for the network, did an interview with the Eurolanche president David Puchovsky during the second period.
"I still can't find the right words. This is, without doubt, Eurolanche's most memorable media appearance in its history. Yes, the famed magazine The Hockey News published a one-page report about us, as did NHL.com, not only in English, but in five different languages, but being on national TV during one of the biggest games of the year is a tremendous honor. It's almost unbelievable," said Puchovsky.
Roenick asked about the Fan Club's history and its membership base. The NBC crew recorded all 12 members of the Eurolanche Invasion VIII trip with their respective national flags of Austria, Czech Republic, Germany, Slovakia and Switzerland.
"Everything went really fast, but during those few moments, I noticed the high level of professionalism of Jeremy and the entire NBC crew. I was amazed. I would like to thank them for such a unique opportunity to present our work on their broadcast during a highly broadcasted game. This once again proofs that Eurolanche is truly one of a kind. I am grateful to all our active members, who support Eurolance on a voluntary basis. This is our moment, our satisfaction. We want this to serve as proof of our commitment and dedication," conluced Puchovsky.
How we made it to NBC Sports
Dreams truly come true. This has been one of our mottos throughout the years. But what happens if you experience such memorable moments that you have a hard time believing aren´t dreams? Something like that happened to me on Saturday, when I was interviewed by NBC Sports´ Jeremy Roenick. Yes, Jeremy Roenick - the former NHL superstar. Yes, for NBC Sports, the biggest national sports channel in the US. Since I worked as a journalist in the past, I wouldn't have been surprised if I had the chance to do an interview with Jeremy at some point. But wait… Roenick interviewed me. Oh my God.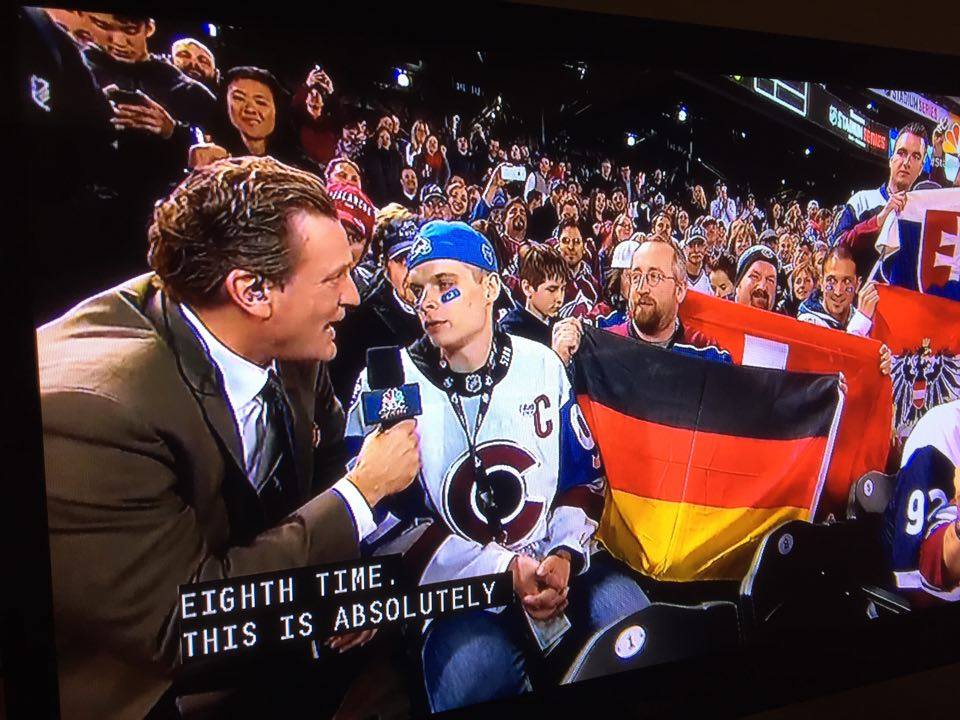 We, the Eurolanche Fan Club, always try to spread word about our voluntary work, about our support of the Avalanche and our dedication to the organization. Our trips to Denver, called the Eurolanche Invasion, serve as proof of our commitment and shows that we are unique and truly one of a kind. There is no similiar NHL fan project that is as active in various fields and organizes annual trips from Europe to North America. So we´ve again done the same during this year´s Eurolanche Invasion VIII. And on one evening, I recieved an email from the producer of NBC. It was a request for an interview. The interview that was scheduled to be during the Stadium Series game - the Avalanche´s biggest game of the year.
At first, after I finished reading the email, I was shaking a little. Yes, we have talked to several national and regional media before, but being interviewed on national TV is something different. Just add 50 095 spectators in the arena, millions in front of their TVs and you get our biggest media challenge yet. Of course my response was sent very quick - and I recieved their confirmation shortly afterwards. Jeremy would meet us during the second period.
I didn´t want to jinx it, so we didn´t send any information about the upcoming interview to our supporters, followers and members. It was - and it still feels like - a dream. Who would believed me, anyway?
I was nervously watching people passing by our row at Coors Field. I just didn't want to miss the NBC producer. It would´ve been a tragedy if the interview fell through because of me not paying enough attention?
More photos from the interview
It all went very fast. Exactly in the second period, as I´ve been told it would. The NBC producer came to meet me and introduced me to Jeremy. We had a brief talk about Eurolanche and then I returned to my seat. Minutes later, Jeremy and the whole NBC crew came down to us. It was a little chaotic for a European, since many TV companies back in my country still lack professionalism and work ethic. There were a lot of people around, many instructions. But Jeremy's smile, voice and humility made me less nervous.
Then it came. A live interview for NBC Sports. For millions of fans around the world. I messed up my first answer, when I just couldn´t remember the word "promise". I wanted to say that we promise our support for the Avalanche will last for a very long time. Fortunately, Jeremy helped me out of a nearly embarassing moment and the interview went on. Two questions followed and we were done.
Jeremy kindly accepted my request for a selfie. I was laughing inside. As I´ve previously mentioned, Jeremy interviewed me, not vice versa. Life may bring crazy moments. But I have to say many of them are well deserved. Without all the hard work of all active Eurolanche members, there would´t be any trips to Denver. There would´t be any real reason why even smaller media outlets would have want to talk with or about us. But this is not our case.
Jeremy even found the time to give an autograph to one of our members. We want to extend our sincere gratitude to thim and the whole NBC crew for such an amazing opportunity. Thank you.
What´s there else to say? Do we think we´ve reached our peak? Do we think of ourselves as super fans, who don't have to do anything and just want to enjoy their recent success? No way.
Eurolanche will continue to exist in its standard form. It may very well even improve its activity, fan base and service for European fans of the Colorado Avalanche.
Yes, we know we achieved many successes the majority of other fans would´ve never achieved. But we are staying true to ourselves, as people and as fans. It just further motivates us to move forward and set new goals for us.
We still have unfulfilled dreams. We still would like to do more activity with support of the Colorado Avalanche. We will do anything for that.
Our interview on NBC Sports serves as proof of my words.

- by David Puchovsky